Meet the Group!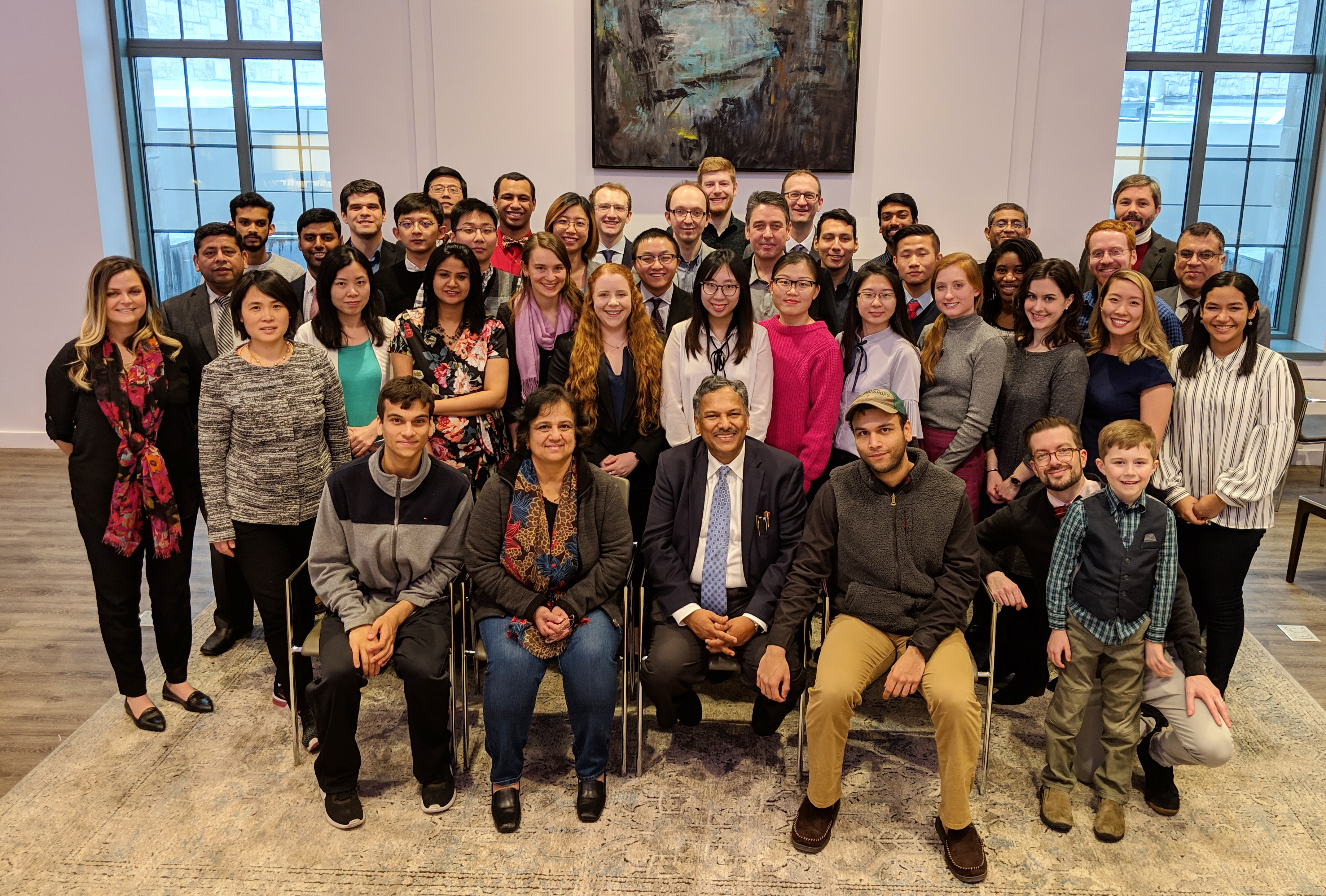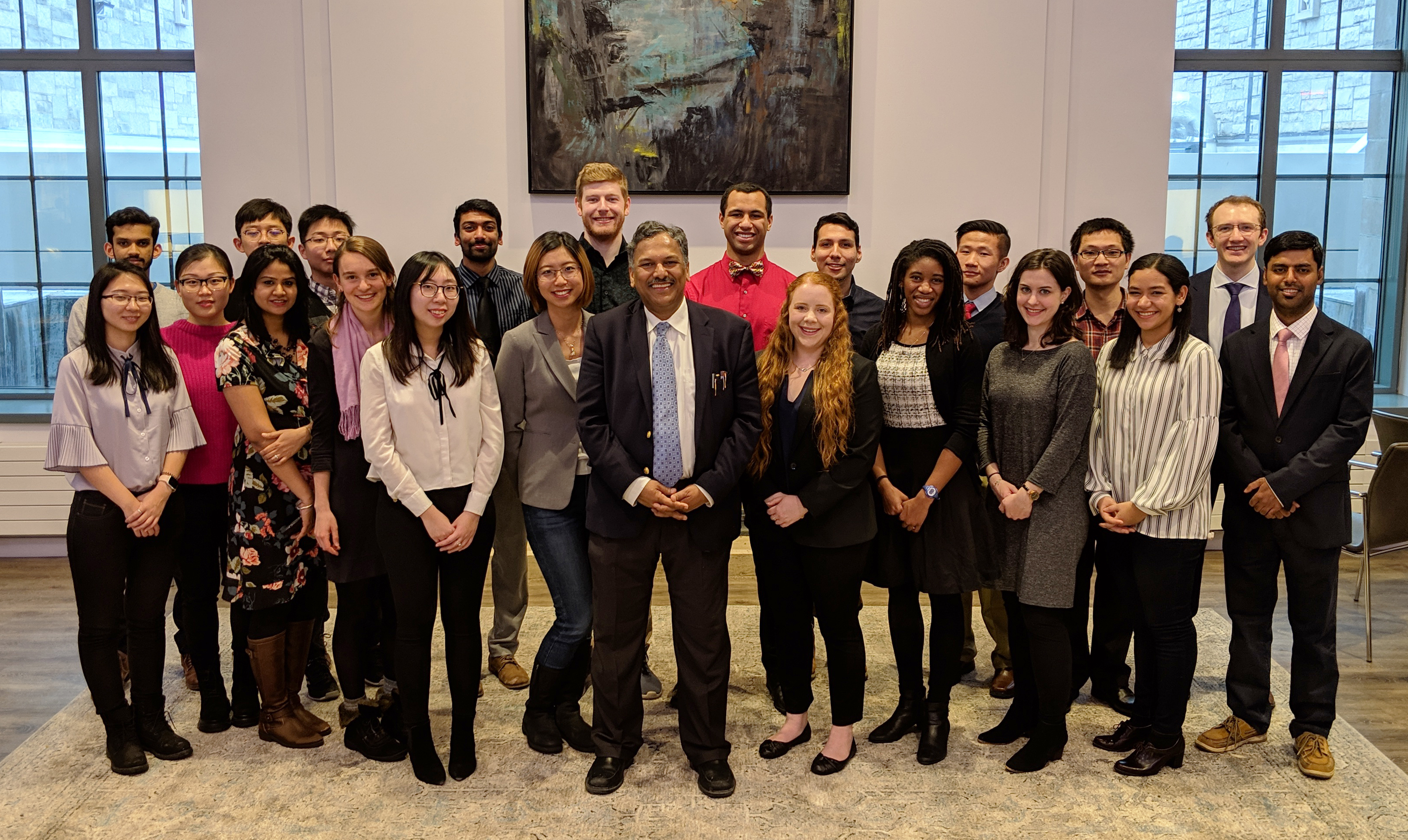 Principal Investigator 
Technical Staff
Roberto dos Reis, PhD - Dravid Research Group Scientific Officer; Research Assitant Professor of Materials Science and Engineering; 
Vikas Nandwana, PhD - Research Associate; Synthesis and functionalization of "theranostic" magnetic nanostructures for biomedical applications.
Graduate Students
Ph.D.
Xiaomi Zhang - Characterization of energy materials
Yue Li - High-throughput, automated 3-D tomography reconstruction strategies
Jingshan Du - Nanoscale phase transformation and correlated electron microscopy
Jennifer DiStefano - Characterization and property enhancement of 2D semiconductors
Jann Grovogui - Microscopy of mesoscale thermoelectric materials
Stephanie Ribet - Synthesis and Characterization of Multidimensional Materials
Akshay Murthy - Characterization of 2-D layered structures
Cesar Villa -  Characterization of battery materials
Kelly Parker - Staining for contrast enhancement of macromolecules in TEM
Will Kellogg - Advanced microscopy and computational methods
Songting Cai - Microscopy and optimization of thermoelectric materials
Chamille Lescott - Functionalization of Magnetic nanostructures for patterning applications 
Matthew Cheng - Synthesis and characterization of novel 2D materials
Chi Zhang - Characterization and synthesis of heteroanionic materials
M.S.
Yuyao Kuang - Synthesis/characterization/functionalization of magnetic nanostructures/nanocomposites
Liren Wang - Characterization of 2-D nanomaterials
Chinmay Menon - Synthesizing theranostic nanoparticles for biomedical applications
Postdoctoral Fellows
Sonali Dhindwal, PhD - Micrscopy of stimuli-responsive protein based molecular structures.
Affiliated Scientists and Staff
Gajendra Shekhawat, PhD - SPID Facility Manager (NUANCE); Research Professor of Materials Science and Engineering; Advanced SPM, Biochemical Sensors & Systems
Xinqi Chen, PhD - KECK II Facility Manager (NUANCE); Research Assistant Professor of Mechanical Engineering; Nanomaterials Synthesis & Characterization, Experimental Nanomechanics, Surface Characterization
Reiner Bleher, PhD - BioCryo Facility Manager (NUANCE), Research Assistant Professor of Materials Science and Engineering; SEM, TEM, STEM, Cryo-EM, and Microanalysis of Biological Samples
Benjamin D. Myers, PhD - SHyNE Director of Operations; Novel Electron Beam Techniques, Lithography & Fabrication
Xiaobing Hu, PhD - EPIC TEM Facility Manager (NUANCE); Research Assistant Professor of Materials Science and Engineering; Advanced Applications of S/TEM; Engineering Alloys, Energy Storage Materials
Tirzah Abbott, MS - Senior Microscopy & Imaging Specialist, EPIC (NUANCE)
Charlene Wilke - Electron Microscopy Specialist, BioCryo (NUANCE)
Eric W. Roth - Electron Microscopy Specialist, BioCryo (NUANCE)
Hee Joon Jung, PhD - Postdoctoral Fellow, EPIC (NUANCE), Quantum dot, Quantum well, Nanowire and Thin 2D Films for Energy Applications
Qing Tu, PhD - Post doctoral Fellow, SPID (NUANCE); In-situ S/TEM of Nanoparticles, Oxides and Energy Materials
William Mohr, MS - Research and Equipment Enigneer, NUFAB (NUANCE)
John Ciraldo, MS - Research Associate, NUFAB (NUANCE)
Kun He, PhD - Postdoctoral Fellow, EPIC (NUANCE); In-situ TEM; Liquid Cell TEM, Liquid electrochemistry TEM, Nucleation and Growth of Nanoparticles
Paul Smeets, PhD - Research Associate, EPIC (NUANCE); 
Undergraduate Research Interns
Anna White - 2D materials for various applications
Avram Bar-Meir - Thermoelectric materials
Kathleen Dewan - Magnetic nanostructuers
Yash More - 
Giuditta Monti - 
Cem Unuvar - 
Back to top