Materials for the Environment
(Supported by NIH-CCNE, NSF-MWN, NSF-INT, NMH, ENH, NNIN)
We use sponge membranes as platform materials to leverage the environmental remediation capabilities of nanomaterials for a variety of applications including oil spill cleanup, nutrient recovery, heavy metal remediation, microplastics remediation, and moisture-driven carbon capture. The nanomaterials we work with are exceptionally versatile due to their high surface area, various functionalities (biocompatibility, superparamagnetism, RF-induced thermal activation, catalytic properties, etc), and their ability to be tailored to specific applications through targeted functionalization. In order to effectively deploy these structures, we incorporate them into sponges, or other 3D porous membranes. Our subgroup also characterizes these novel composite materials with a variety of advanced microscopy and spectroscopy techniques. Our current or recent areas of focus are listed below: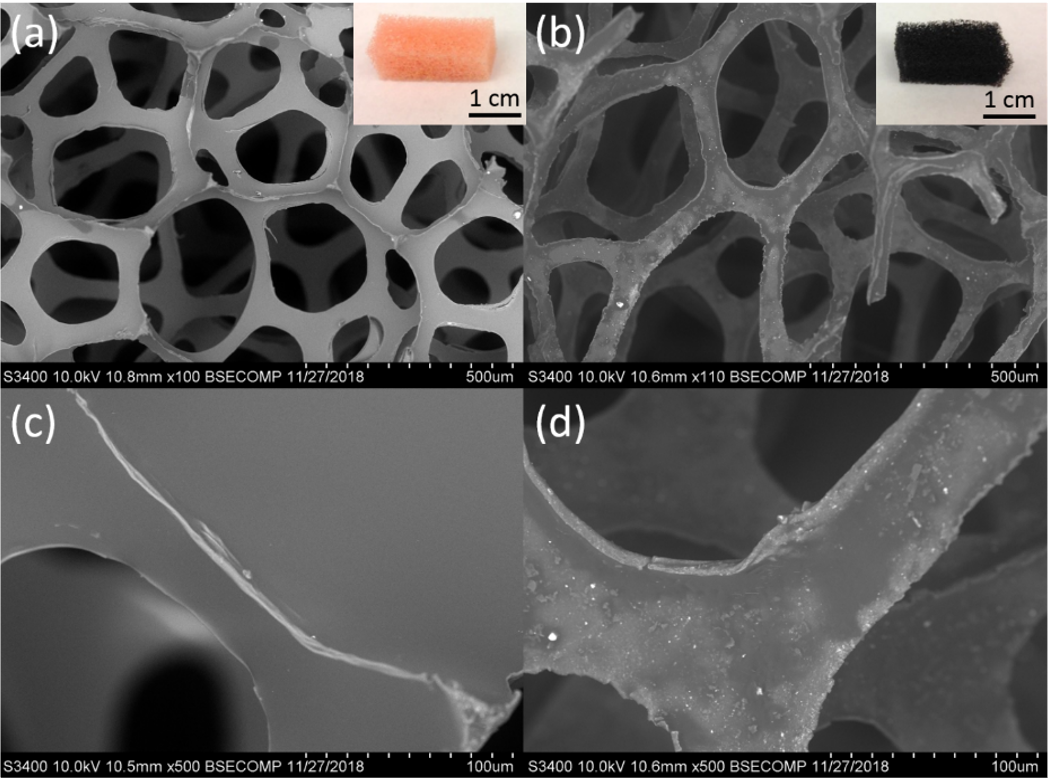 Oil spill remediation:

The OHM (or oliophilic, hydrophobic, magnetic) sponge was the first initiative for our group in this area, used to remediate oil spills and subsequently low concentrations of oil-in-water emulsions.

Phosphate Remediation

: Phosphate, a critical nutrient for life, can cause hypereutrophication, a cascading environmental effect in lakes and waterways which can be harmful for ecosystems.  The PEARL (phosphate elimination and recovery lightweight) membrane was designed to attack this problem.

Heavy Metal Remediation

:

 Lead and other harmful heavy metals are a leading health risk worldwide.  Our multifunctional membranes can be optimized to adsorb these heavy metals.  We are also investigating the adsorptive properties of tea leaves.

Microplastics

: Micro- and nano-plastics are an emerging environmental crisis.  Characterizing these particles in water, as well as removing them, is a challenge our group is looking to approach with our membrane platform.
Carbon Capture: Moisture-driven carbon capture employs a methodology ofusing humidified air or liquid water to control the desorption of CO2 frommaterials, and dry air to adsorb CO2.  This cycling approach can be used for direct air capture of CO2.  Additionally, our group is conductingelectronmicroscopy of metal-organic framework materials for a different pathway for CO2 sequestration.

Scalability

: All of our materials are made using earth-abundant elements and scalable, water-based synthetic techniques.

Using a flow-reactor approach, we are working on scaling up our materials

in

partern

ship with our recent spin-out

compan

y MFNS Tech

(

https://www.mfns-tech.com/

) Additionally, our group is interested in sustainability and life cycle challenges of adsorbent materials.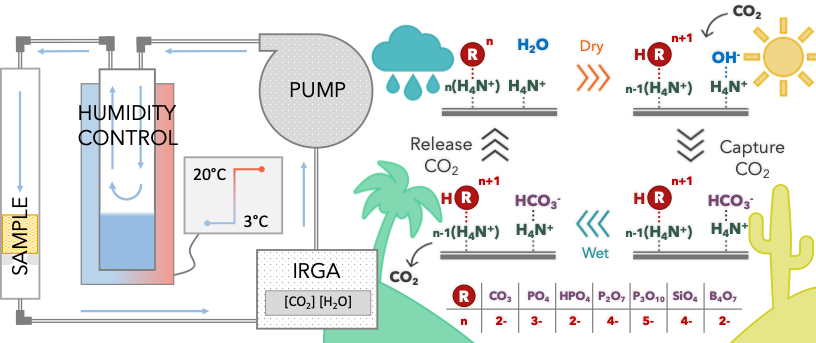 Representative Publications:
Ribet, S. M.; Shindel, B.; Reis, R. dos; Nandwana, V.; Dravid, V. P. Phosphate Elimination and Recovery Lightweight (PEARL) Membrane: A Sustainable Environmental Remediation Approach.

PNAS 2021

,

118

(23).

https://doi.org/10.1073/pnas.2102583118

.

Nandwana, V.; Ribet, S. M.; Reis, R. D.; Kuang, Y.; More, Y.; Dravid, V. P. OHM Sponge: A Versatile, Efficient, and Ecofriendly Environmental Remediation Platform.

Ind. Eng. Chem. Res. 2020

,

59

(23), 10945–10954.

https://doi.org/10.1021/acs.iecr.0c01493

.

V. Nandwana, S.R. Ryoo, T. Zheng, M.M. You and V.P. Dravid

"Magnetic Nanostructure-Coated Thermoresponsive Hydrogel Nanoconstruct as a Smart Multimodal Theranostic Platform."

ACS Biomaterials Science & Engineering

(2019) DOI: 10.1021/acsbiomaterials.9b00361

Vikas Nandwana, Soo-Ryoon Ryoo, Shanthi Kanthala, Mrinmoy De, Stanley S Chou, Pottumarthi V. Prasad, & Vinayak P. Dravid Engineered theranostic magnetic nanostructures: Role of composition and surface coating on magnetic resonance imaging contrast and thermal activation. ACS Applied Materials & Interfaces, 8(11), 6953-6961 (2016). DOI: 10.1021/acsami.6b01377​
Vikas Nandwana, Mrinmoy De, Shihyao Chu, Manish Jaiswal, Matt Rotz, Thomas J. Meade, & Vinayak P. Dravid. Theranostic Magnetic Nanostructures (MNS) for Cancer. Cancer Treatment and Research, 166, 51-83 (2015). DOI:10.1007/978-3-319-16555-4_3.
Back to top