Interfaces & Defect Phenomena in Advanced Materials
(Supported by DOE-BES, NSF-MRSEC, SRC, Intel, NSF-MRI, ANL)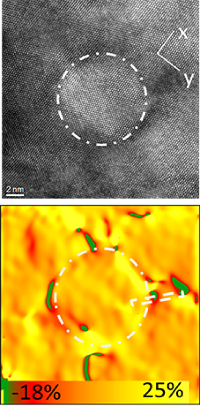 Studying structure-property relationships in advanced materials is one of the fundamental cornerstones of Materials Science and Engineering. The properties of multifunctional materials and the phenomena observed in such systems are inextricably linked to their complex interfacial and defect structures. As such, developing new materials systems and devices demands a profound understanding of the interfaces and defects in the material, whether intrinsic or engineered.
The VPD group focuses on extensively analyzing the intricate interface and defect structures in materials systems of interest by utilizing advanced electron microscopy, scanning probe and synchrotron x-ray scattering techniques.  Our goal is to develop knowledge of not only static structural features, but to also monitor the dynamics of interfacial and defect phenomena using in-situ characterization techniques, and measure their localized and bulk properties. Most recently, this approach has been applied primarily to materials used for energy generation and energy storage, namely thermoelectric materials and Li-ion battery electrode materials.
Thermoelectric materials convert heat into electricity, making them a promising technology for recovering energy from waste heat.  The VPD group, working with collaborators in the Kanatzidis (Chemistry) and Wolverton (MSE) groups, has shown that engineering materials with an all-scale hierarchical structure is an extremely effective approach for improving thermoelectric performance. This work, and the lessons learned, resulted in the two best thermoelectric materials to date: PbTe-SrTe and single crystal SnSe. Our current efforts are focused on developing new thermoelectric materials and studying their structural evolution at high temperature.

Understanding interface and defect structure across multiple length scales is also pivotal for developing new high-performance battery electrode materials. As members of the Center for Electrochemical Energy Science (a collaboration between ANL, UIUC, NU, and Purdue), the VPD group conducts ex-situ and also in-operando studies of model electrode materials that undergo intercalation or conversion reaction processes using Li+, Na+, and beyond. Elucidation of the structural transformations and interface dynamics within model systems aids with understanding important phenomena, such as ionic and electronic transport, and carries significant weight for correlating material structure to electrochemical performance.
In both of these fields, we make extensive use of the NUANCE center instruments and capabilities, in addition to ANL-APS synchrotron scattering facilities for both ex-situ and in-situ analysis of static and dynamic of interfacial and defect phenomena.
Representative Publications:

Thermoelectrics:
Tyler Slade, Jann Grovogui, Shiqiang Hao, Trevor Bailey, Runchu Ma,  Xia Hua, Aurélie Guéguen,  Ctirad Uher, Chris Wolverton,  Vinayak Dravid,  Mercouri Kanatzidis, Absence of Nanostructuring in NaPb

m

SbTe

m+2

: Solid Solutions with High Thermoelectric Performance in the Intermediate Temperature Regime, Journal of the American Chemical Society,  (2018). DOI: 10.1021/jacs.8b04193
Gangjian Tan, Fengyuan Shi, Shiqiang Hao, Li-Dong Zhao, Hang Chi, Xiaomi Zhang, Ctirad Uher, Chris Wolverton, Vinayak P. Dravid & Mercouri G. Kanatzidis. Non-equilibrium processing leads to record high thermoelectric figure of merit in PbTe-SrTe. Nature Communications

, 

7:

12167, (2016)

. 

DOI: 10.1038/ncomms12167

 
Tian-Ran Wei, Gangjian Tan, Xiaomi Zhang, Chao-Feng Wu, Jing-Feng Li, Vinayak P. Dravid, G. Jeffrey Snyder, and Mercouri G. Kanatzidis,  Distinct impact of alkali-ion doping on electrical transport properties of thermoelectric p-type polycrystalline SnSe. Journal of the American Chemical Society, 138 (28), 8875-8882 (2016). DOI: 10.1021/jacs.6b04181
Li-Dong Zhao, Gangjian Tan, Shiqiang Hao, Jiaqing He, Yanling Pei, Hang Chi, Heng Wang, Shengkai Gong, Huibin Xu, Vinayak P. Dravid, Ctirad Uher, G. Jeffrey Snyder, Chris Wolverton, Mercouri G. Kanatzidis, Ultrahigh power factor and thermoelectric performance in hole-doped single-crystal SnSe. Science 351, 141-144 (2016). 

DOI: 10.1126/science.aad3749

 
Gangjian Tan, Fengyuan Shi, Jeff W. Doak, Hui Sun, Li-Dong Zhao, Pengli Wang, Ctirad Uher, Chris Wolverton, Vinayak P. Dravid, & Mercouri G. Kanatzidis. Extraordinary role of Hg in enhancing the thermoelectric performance of p-type SnTe.  Energy & Environmental Science, 8(1), 267-277, (2015). DOI: 10.1039/c4ee01463d
Li-Dong Zhao, Shih-Han Lo, Yongsheng Zhang, Hui Sun, Gangjian Tan, Ctirad Uher, C. Wolverton, Vinayak P. Dravid, Mercouri G. Kanatzidis, Ultralow thermal conductivity and high thermoelectric figure of merit in SnSe crystals. Nature 508, 373-377 (2014).  DOI:10.1038/nature131

84

Kanishka Biswas, Jiaqing He, Ivan D. Blum, Iwu Chun, Timothy P. Hogan, David N. Seidman, Vinayak P. Dravid, Mercouri G. Kanatzidis, High-performance bulk thermoelectrics with all-scale hierarchical architectures  Nature

 

489

, 

414

–

418

(2012).  DOI: 10.1038/nature11439
Battery Electrode Materials:
Qianqian Li, Jinsong Wu, Zhenpeng Yao, Yaobin Xu, Michael M. Thackeray, Chris Wolverton, Vinayak P. Dravid,

 

Dynamic imaging of metastable reaction pathways in lithiated cobalt oxide electrodes, Nano Energy,  44, 15-22, (2018). DOI: 10.1016/j.nanoen.2017.11.052
Heguang Liu, Qianqian Li, Zhenpeng Yao, Lei Li, Yuan Li, Chris Wolverton, Mark C. Hersam, Jinsong Wu, Vinayak P. Dravid,

 

Origin of Fracture-Resistance to Large Volume Change in Cu-Substituted Co3O4 Electrodes,  Advanced Materials, 1704851,  (2018). DOI: 10.1002/adma.201704851
Kan-Sheng Chen, Rui Xu, Norman S. Luu, Ethan B. Secor, Koichi Hamamoto, Qianqian Li, Soo Kim, Vinod K. Sangwan, Itamar Balla, Linda M. Guiney, Jung-Woo T. Seo, Xiankai Yu, Weiwei Liu, Jinsong Wu, Chris Wolverton, Vinayak P. Dravid, Scott A. Barnett, Jun Lu, Khalil Amine, and Mark C. Hersam,

 

Comprehensive Enhancement of Nanostructured Lithium-Ion Battery Cathode Materials via Conformal Graphene Dispersion. Nano Letters, vol. 17, no. 4, pp. 2539–2546., (2017). DOI: 

10.1021/acs.nanolett.7b00274

 
Guennadi Evmenenko, Timothy T. Fister, D. Bruce Buchholz, Fernando C. Castro, Qianqian Li, Jinsong Wu, Vinayak P. Dravid, Paul Fenter and Michael J. Bedzyk, Lithiation of Multilayer Ni/NiO Electrodes: Criticality of Nickel Layer Thicknesses on Conversion Reaction Kinetics. Physical Chemistry Chemical Physics, vol. 19, no. 30, pp. 20029–20039., (2017). 

DOI: 10.1039/C7CP02448G

Qianqian Li, Zhenpeng Yao, Jinsong Wu, Sagar Mitra, Sqiang Hao, Tuhin Subhra Sahu, Yuan Li, Chris Wolverton, Vinayak P. Dravid, Intermediate phases in sodium intercalation into MoS2 nanosheets and their implications for sodium-ion batteries. Nano Energy 38, 342-349 (2017). DOI:10.1016/j.nanoen.2017.05.055
Yu, J., Li Q.Q., Xu, C.Y., Chen, N., Li, Y., Liu, H.G., Zhen, L., Dravid, V.P. and Wu, J.S., NiSe2 pyramids deposited on N-doped graphene encapsulated Ni foam for high-performance water oxidation. Journal of Materials Chemistry A, 5, 3981-3986. (2017). DOI: 10.1039/C6TA10303K

Tuhin Subhra Sahu, Qianqian Li, Jinsong Wu, Vinayak P. Dravid and Sagar Mitra Exfoliated MoS2 nanosheets confined in 3-D hierarchical carbon nanotube@graphene architecture with superior sodium-ion storage. Journal of Materials Chemistry A, 5, 355-363 (2017). DOI: 10.1039/C6TA07390E

Qianqian Li, Heguang Liu, Zhenpeng Yao, Jipeng Cheng, Tiehu Li, Yuan Li, Chris Wolverton, Jinsong Wu, and Vinayak P. Dravid, Electrochemistry of Selenium with Sodium and Lithium: Kinetics and Reaction Mechanism, ACS Nano, 10 (9), 8788-8795, (2016). DOI: 10.1021/acsnano.6b04519
Eungje Lee, Joel Blauwkamp, Fernando C. Castro, Jinsong Wu, Vinayak P. Dravid, Pengfei Yan, Chongmin Wang, Soo Kim, Christopher Wolverton, Roy Benedek, Fulya Dogan, Joong Sun Park, Jason R. Croy, Michael M. Thackeray. Exploring Lithium-Cobalt-Nickel Oxide Spinel Electrodes for >/=3.5 V Li-Ion Cells. ACS Applied Materials and Interfaces, 8 (41), 27720-27729, (2016). DOI: 10.1021/acsami.6b09073
Tim T. Fister, Xianyi Hu, Jennifer Esbenshade, Xiao Chen, Jinsong Wu, Vinayak Dravid, Michael Bedzyk, Brandon Long, Andrew A. Gewirth, Bing Shi, Christian M. Schlepuetz, Paul Fenter, Dimensionally Controlled Lithiation of Chromium Oxide. Chemistry of Materials 28, 47-54 (2016). DOI:

 

10.1021/acs.chemmater.5b01809

Laila Jaber-Ansari, Kanan P. Puntambekar, Soo Kim, Muratahan Aykol, Langli Luo, Jinsong Wu, Benjamin D. Myers, Hakim Iddir, John T. Russell, Spencer J. Saldaña, Rajan Kumar, Michael M. Thackeray, Larry A. Curtiss, Vinayak P. Dravid, Chris Wolverton, & Mark C. Hersam. Suppressing Manganese Dissolution from Lithium Manganese Oxide Spinel Cathodes with Single-Layer Graphene.  Advanced Energy Materials, 5(17) (2015). DOI: 10.1002/aenm.201500646
Langli Luo, Jinsong Wu, Junming Xu, & Vinayak P. Dravid. Atomic Resolution Study of Reversible Conversion Reaction in Metal Oxide Electrodes for Lithium-Ion Battery. ACS Nano, 8(11), 11560-11566 (2014). DOI:

 

10.1021/nn504806h

Langli Luo, Jinsong Wu, Jiayan Luo, Jiaxing Huang, Vinayak P. Dravid, Dynamics of Electrochemical Lithiation/Delithiation of Graphene-Encapsulated Silicon Nanoparticles Studied by In-situ TEM. Scientific Reports 4, 3863 (2014). DOI: 10.1038/srep03863
Back to top