Xin Wang, PhD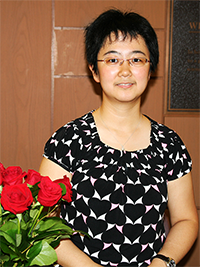 Postdoctoral Fellow in Materials Science and Engineering
Northwestern University
Room: B560, Silverman Hall
Chemistry of Life Processes Institute,
2170 Campus Drive
Evanston IL, 60208-3113
Phone: (847) 491-5809
Facsimile: (847) 467-6573
Email: xin.wang1@northwestern.edu
Education
2008 - 2013      Ph.D., Mechanical Engineering, Northeastern University, Boston, MA            
2006 - 2008      M.S., Solid Mechanics, Tianjin University, Tianjin, China                      
2002 - 2006      B.S., Engineering Mechanics, Tianjin University, Tianjin, China       
Current Research
Characterize mechanical properties of endothelial cells (EC) to investigate intracellular redistribution of cytoskeletal tension associated with EC permeability using atomic force microscopy (AFM)
Journal Publications
X. Wang, Y. Li, A. Gu, K.-T. Wan, "Predicting Macroscopic Colloidal Deposition and Transportation Based on Dimensionless Tabor's Parameter", Nano LIFE 3, 1340009 (2013).
X. Wang, Y. Li, C. Gao, A. Gu, K.-T. Wan, "Parameter to Correlate Microscopic Adhesion Properties of Bacteria Strains to their Macroscopic Aggregation Behavior", Journal of Colloid and Interface Science 374, 70-76 (2012)
X. Wang, J. Najem, S.-C. Wong, K.-T. Wan, "A nano-cheese-cutter to directly measure interfacial adhesion of freestanding nano-fibers", Journal of Applied Physics 11, 024315 (2012).
X. Wang, A. Shah, R. Campbell, K.-T. Wan, "Glycoprotein mucin molecular brush on cancer cell surface acting as mechanical barrier against drug delivery", Applied Physics Letters 97, 263703 (2010). 
Back to top