Unveiling of the NU Formula SAE Car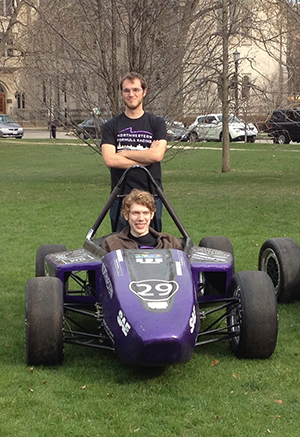 On April 24th, the Northwestern Formula SAE team unveiled their latest vehicle. An undergrad in VPD group, Dan Charles was the Composites Lead this year and directed the team in the design and manufacture of carbon fiber and non-metallic parts to minimize weight and maximize performance. Among these were several pieces of bodywork, structural components, a carbon-fiber firewall, and a seat made from expanding foam. Being a senior, this was his last year on the team and we couldn't be more proud of their results. Mid-May, a group of twenty senior members including Dan will go to Michigan to represent Northwestern at an international design and racing competition. 
Dan has also been offered another Boeing Internship in Philadelphia starting in July. He has been accepted into the Materials Science and Engineering Master's program, so after that he will come back to Northwestern for two quarters next year to complete coursework. His area of focus will continue to be in the areas of nanomaterials, electrical properties, and composites.