Professors Mirkin and Dravid to Head New $55 Million Nano-Medicine Institute
Institute will engender new breakthroughs in hard to treat disorders and diseases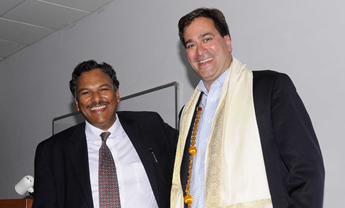 Announced this month at the Chicago AAAS meeting, a joint Nanomedicine Institute between Nanyang Technological University (NTU), a leading research university in Southeast Asia, and Northwestern University will provide key funding to target critical disorders and diseases through the development of new nanoscale platforms and techniques.  The institute will be the first of its kind in Southeast Asia, helping set a new trend of globally engaged research.
Nanotechnology has already made key advances in electronics and computing, but its effect in medical fields will be profound.  From advanced diagnostics and sensing to novel drug delivery methods, nanotechnology promises to increase the efficacy of existing treatments and generate entirely new approaches. 
Professor Dravid will co-direct the new institute with Professor Chad Mirkin through Northwestern's International Institute of Nanotechnology, further expanding the institute's wide international presence. 
Dravid group research in Theranostics and nano-bio-mechanics will play a key role in the new institute, helping to treat disorders such as acute lung disease and developing biocompatible drug delivery agents.