News Article
Congratulations Tao!!!
June 2008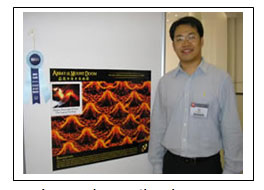 1st place: Tao Sun won first place at the International Materials Research Conference in Chongqing, China held June 9-12, 2008.
"Array of the Mount Doom": The sample was fabricated using photolithography and reactive ion etching techniques. This sort of array structure mimics the surface of leaves, which exhibits super-hydrophobicity.

Great job, Tao!!