Soo-Hyun Tark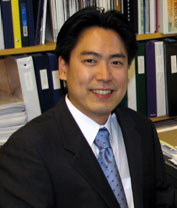 Postdoctoral Fellow
Materials Science and Engineering
Northwestern University
Room: B560, Silverman Hall
Chemistry of Life Processes Institute
2170 Campus Drive
Evanston IL, 60208-3113
Phone:     (847) 467-2651 (L)
Facsimile: (847) 467-6573
Email: s-tark@northwestern.edu
Educational Background
2009
Ph.D., Materials Science & Engineering
Northwestern University

Evanston, IL
2003
B.S. Materials Science & Engineering
State University of New York at Stony Brook

Stony Brook, NY
Research Objective(s) and Approach
Fundamental/quantitative validation of the new electronic signal transduction and detection paradigm based on the MOSFET-embedded microcantilevers.

Simulation and experimental studies to improve and optimize sensor platform performance.
Evaluation of sensitivity, selectivity, and reproducibility of the MOSFET cantilever sensor platform with biomolecular and chemical detection experiments.
Cross-validation of MOSFET-embedded cantilever sensing performance with conventional optical deflection detection approach.

Optimization and application of novel receptors and their immobilization strategies for biological and chemical detection on microcantilevers.
Results
New electronic, label- and optics-free signal transduction based on MOSFET-embedded cantilevers allows real-time detection of biomolecular interactions with high sensitivity and selectivity by simple direct current measurement as demonstrated in the following results.
Selected Publication
Shekhawat G, Tark S, Dravid VP, "MOSFET-Embedded Microcantilevers for Measuring Deflection in Biomolecular Sensors", Science, 311 (5767): pp: 1592-1595 (2006)
Tark S, Srivastava A, Chou S, Shekhawat G, Dravid VP, "Nanomechanoelectronic Signal Transduction Scheme with Metal-Oxide-Semiconductor Field-Effect Transistor-Embedded Microcantilevers", Applied Physics Letters, Vol. 94 (10): article: 104101: DOI:10.1063/1.3093874 (2009)