Vinayak Dravid, Ph.D.

Professor, Materials Science & Engineering
Director, NUANCE Center
Northwestern University 2220 Campus Drive
1131 Cook Hall
Evanston, IL 60208-3108
http://northwestern.edu/vpdgroup
Phone: (847) 467-1363
Facsimile: (847) 467-6573
email
Program Administrator:
Amy Morgan
(847) 491-7795
email
NUANCE 
Business Manager:
Chad Goeser
(847) 467-2318
email
Summary Bio-Sketch (Click for extended CV)
Vinayak P. Dravid is the Northwestern University President Abraham Harris Chaired Professor of Materials Science & Engineering in the McCormick School of Engineering and Applied Science. Professor Dravid is the founding director of the NUANCE Center, an award-winning microscopy and surface science research infrastructure resource used annually by hundreds of researchers from across myriad scientific fields. He also conceived and founded Global McCormick Initiative, which provides strategic and operational support in sustainable global research and educational initiatives. He now serves as its co-director and a special advisor to the Dean for Global Programs. Professor Dravid received his Bachelor of Technology (B. Tech.) in Metallurgical Engineering in 1984 from IIT Bombay, India. Immediately following receipt of his PhD in Materials Science and Engineering from Lehigh University, Dravid joined the Northwestern faculty in 1990.
Professor Dravid's scholarly interests are at the intersection of materials science with physics, chemistry, biology and engineering with implications for electronics, energy, environmental science and biomedicine. He has a diverse research portfolio encompassing advanced microscopy, nanotechnology, technology strategy, energy policy and emerging educational paradigms. He has authored over four hundred archival journal publications and book chapters, and he holds dozens of issued/pending patents. Many of his patents are licensed to start-up companies in nanotechnology, sensor/diagnostic systems. He is a co-founder of and closely affiliated with several high-tech stage start-ups related to his IP portfolio in nano-metrology, nanopatterning and bio-chem sensing.
Professor Dravid serves as a member or an executive officer at several world-renowned NU research centers, including: International Institute for Nanotechnology (IIN), Materials Research Science and Engineering Center (MRSEC), Center for Catalysis and Surface Science (CCSS), Institute for Catalysis and Surface Science (IECP), Chemistry of Life Processes Institute (CLP) and the Robert H. Lurie Comprehensive Cancer Center (RHLCCC).As the director of Global McCormick, Professor Dravid has helped launch many global research and educational initiatives across Asia (e.g., India, Singapore), Europe (e.g., UK, Germany), Africa (e.g., Egypt, South Africa) and South America, among others. Professor Dravid has served as consultant and advisor to metrology, bio-chem companies, IP firms, the Art Institute of Chicago and Museum of Science and Industry Chicago, among others. He advises NGOs, professional societies outreach programs, international organizations and the private sector about science, technology and policy. Professor Dravid is an avid follower of Chess and enjoys following GM tournaments online whenever possible. One of his passions is to enhance the societal and global appreciation for science and technology, through the beauty, complexity and elegance of microscopy & materials analysis.
Honors and Awards
2015: Outstanding Core Facility Award: Gold Star Award
2014: Elected Honorary Member: The Indian Institute of Metals
2014: Outstanding Core Facility Award
2012: Outstanding Core Facility Award: Office of Research, Northwestern University
2012: Lee Hsun Research Fellowship: Chinese Academy of Sciences
2012: IIT Bombay Distinguished Alumnus Award
2011: Elected Faculty Honor Roll for Excellence in Teaching: Northwestern University; Selected by voting UG students
2011: Elected Honorary Member: Materials Research Society of India (MRSI)
2010: Elected Fellow: American Assoc. for Advancement of Science (AAAS)
2010: Elected Fellow: Materials Research Society (MRS)
2010: Elected Fellow: American Physical Society (APS)
2010: Elected Faculty Honor Roll for Excellence in Teaching: Northwestern University; Selected by voting UG students

Representative Scientific, Professional and Outreach Leadership (past & present):
Editorial Board, Current Opinion in Solid State and Materials Science
Editor (Materials Science), Microscopy and Microanalysis (Flagship journal of the Microscopy Society of America- MSA)
Principal Editor, Journal of Materials Research (Flagship journal of the Materials Research Society- MRS)
Editorial Board, Journal of Microscopy (Royal Microscopical Society,UK)
Reviewer/panelist for: NSF, DOE and DOD
Reviewer/Editor of special issues: APL, PRL, JACerS, Nature, Science, Acta Mater., JMR, JECS, Nano Letters, among many others.
Professional memberships: ACerS, MRS, MSA, MAS, APS, ACS, AAAS, IEEE, ASME, ASEE, ASM/TMS
Founding member: International Institute for Nanotechnology (IIN)
Board of Directors: IIT Bombay Heritage Fund (US alumni association for IITB)
Founding member: Faculty Academic Network (FAN)
Board Member: NanoInk Scientific Advisory Board
Board of Directors: Joint Research Center between Nile University, Egypt and Northwestern
International Advisory Committee: Global Indian Scientists and Technocrats Convention (GIST)
Co-Founder, Board Member and Chair Scientific Advisory Committe: NanoSonix, Inc., a hi-tech start-up
Co-Organizer: Conference on Advanced Materials (ICAM), Brazil
Corporate & International Outreach/Entrepreneurial Activities Committee: Chemistry of Life Processes Institute (CLP) NU
Our Philosophy: VPD Group places an emphasis on "big" picture and individual creativity, fostering innovations at-/across the interfaces of disparate fields. We nurture communication skills, provide extensive hands-on facility experience, encourage global engagement and take pride in promoting a group ambiance that is conducive to personal and professional growth during the PhD and beyond!
Our History: VPD Group has evolved over the years, yet it keeps its foundation firmly on "structure" – spanning atomic-, nano- and micro- length-scales, anchored by advanced microscopy and characterization platform. By invoking advanced microscopy and characterization techniques at its heart, VPD Group has been able to meet emerging opportunities in nanoscale phenomena in diverse hard, soft & hybrid structures which are the hallmark of modern materials science, engineering and technology.
VPD Group has a strong underpinning in advanced electron microscopy, with interfacial and defect phenomena being the core theme through most of 1990's. The group has added diverse SPM techniques to the core microscopy portfolio and expanded to include innovative approaches for patterning and assembly of nanostructures, extending to multifunctional oxides and 2-D atomically layered materials. These advances naturally led to several scientific discoveries and technological inventions and innovations related to devices/systems for commercial realization.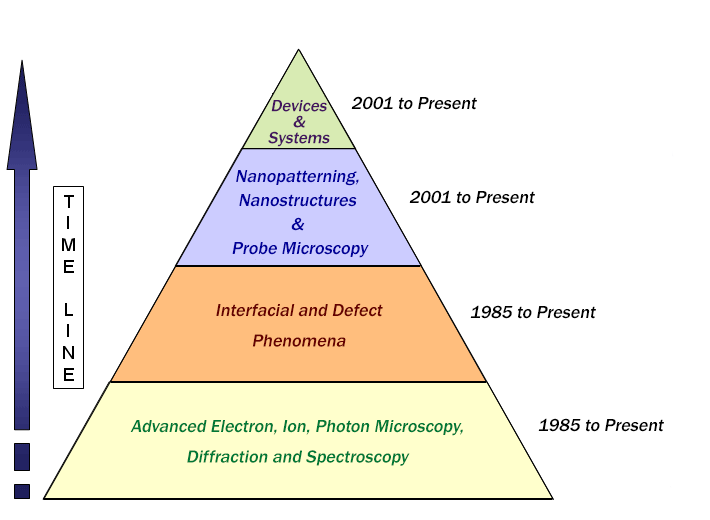 Back to top